Strong first half of 2022 for Volkswagen Passenger Cars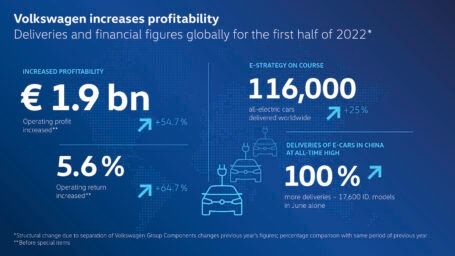 Dijous, 28 de juliol de 2022
Volkswagen CEO Thomas Schäfer: "We are making great strides in implementing our electric mobility strategy, digitalization and software, and picked up significant speed in the second quarter of 2022, despite the persistently strained supply situation. We continue to apply extreme cost discipline and will leverage even greater synergies at all levels within the Volume brand group. The aim is to increase efficiency by 20 percent for the entire Volume brand group in the medium term. For the second half of the year, we are cautiously optimistic that the supply situation will ease." The Volume brand group, which comprises Volkswagen Passenger Cars, SEAT and CUPRA, ŠKODA as well as Volkswagen Commercial Vehicles, is under the responsibility of Thomas Schäfer in the Group Board of Management. The brands are to cooperate even more closely in future to become even faster, more effective and more cost-efficient – and to turn the large volume of vehicles they produce into a competitive advantage.
Focus on cost efficiency remains unchanged
Contributors to the financial result include the continued consistent drive to optimize fixed costs and distribution expenses, the ongoing encouraging trend in the regions – especially North and South America – as well as the investment focus on digitalization and electric mobility, which are key issues for the future. "Our measures to reduce costs and increase profit are having an effect, despite persistent geopolitical uncertainties, sharp rises in commodity and energy prices, disruptions to delivery and supply chains as well as the impact of the pandemic in China," says Volkswagen CFO Alexander Seitz. "The upward trend continued in the second quarter".